Lucie Koldova & Dan Yeffet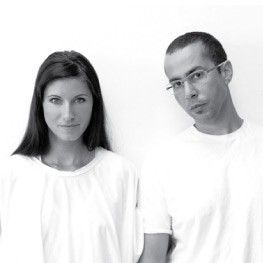 Israeli designer Dan Yeffet first established his studio in Amsterdam in 2003 before opting to relocate to Paris in 2005. Yeffet's work spans from space to objects and all things between. He comfortably works in both classic craft work and cutting edge technology making his work the perfect intersection of old and new design modes. Known for his work in furniture pieces, glass sculptures and lights, Yeffet's work is oft expressed as innovative and modest but with a well developed identity. The studio is involved in various collaborations including a very successful partnering with Italian designer Lucie Koldova and European lighting manufacturer, Brokis. Lucie Koldova is originally from the Czech Republic but makes Paris her home now. Graduating from the Academy of Arts, Architecture and Design in 
Prague in 2009, Lucie went on to open her own studios in 2012 quickly building a noted brand. Lucie Koldova creates furniture, glass sculpture 
and high end lighting. From original works to large scale installations or consumer goods, Koldova blends the craftsmanship of old with the technology of new to find the creative sweet spot where the best modes intersect. With their technological know how offset by solid design fundamentals, Koldova & Yeffet harness the power of their two design minds. Add to this the legacy of craftsmanship European lighting maker Brokis brings, and you have a trifecta of exceptional lighting design.
Designed by Lucie Koldova & Dan Yeffet